Dear friends,
On the first day of our trip, we left Lexington bright and early and went to Old Greenwich, CT where I was born and lived until about age 12.  OG is a lot like Lexington, an idyllic place to grow up.   Much is the same, although the houses seem bigger, and everything else smaller than I remember it from childhood. And our house, which was yellow then,  is now blue: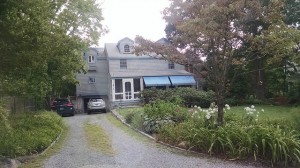 A wonderful serendipitous event was  bumping into my childhood best friend Linda while trying (unsuccessfully) to get a peek into the beach club we used to belong to. We got to visit with her, her two boys, and her parents at their house where I spent a lot of time as a kid.
Thankfully, St. Saviour's Church was wide open and easy to get into. It's an unusual church as it was build in a California Mission style, and is pink! St. Saviour's is where I received First Communion and also, many years later, was married by the same rector, who was also one of my ordination sponsors. He's been a close family friend for years and shaped a lot of what I think it means to be a priest. 
Peter took this photo of me in the pulpit where I preached my second sermon, while in seminary: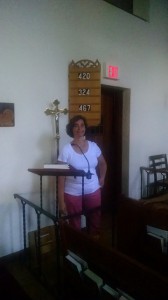 And Lucy posed in the spot where her parents were married on May 13, 1995:
After an afternoon in OG, we were off to Lancaster, PA. More on that in the next post!
Peace,
Kate