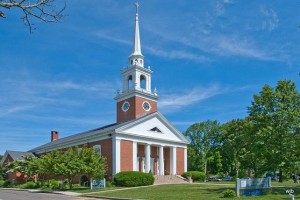 For 125 years, the Church of Our Redeemer has been the spiritual home for many in the Lexington community and surrounding towns. Today, our congregation is vibrant, welcoming, intergenerational and engaged in mission across our region and beyond our borders. Grounded in worship and Christian formation, we are outward-looking, as we strive to extend our welcome and serve as God's hands in our world. Through a time of inclusive and prayerful discernment, we are embracing today's opportunity to bring that same vitality and sense of welcome into our building. By raising our Great Hall to 21st century standards, we recommit our community to mission, outreach and the wider community. We also commit to the spiritual formation and fellowship priorities of our congregation.
An investment in our building recognizes our desire to provide for our children, who represent the future of our community. With these improvements we will continue to be the place that welcomes everyone, a place for the Holy Spirit to be felt and heard. Providing greater access to all who desire to worship, meet and grow in their faith is at the heart of our Christian beliefs. We respond to this call by recognizing the need to make our building universally accessible for all gatherings. In doing so, we honor both past and future generations of Redeemer members by reaffirming that we are here to welcome and to serve.
Join us as we create "Room for the spirit. Room for all".