Remembering Bob Blue – Noted artist's legacy lives on at Redeemer
By Kathy Mockett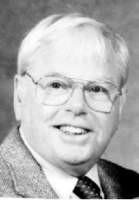 Have you noticed the picture of Church of Our Redeemer on your new name tag? That picture is taken from a woodcut done by one of our former parishioners, and local artist of note, Robert G "Bob" Blue.
Bob Blue was born in Newton on March 13, 1924 and throughout his lifetime painted a variety of subjects ranging from docks, harbors, seascapes, and the mountains and villages of Vermont and Maine.
During World War II, Bob worked at MIT's Draper Lab in Cambridge alongside Doc Edgerton and others who were pioneering in radar.  For 28 years Bob did illustrations for the publications department at Jackson & Moreland Engineers in Boston.
He completed the first illustrations of the Nautilus submarine in 1968 and won a top prize for that illustration.  Later, Bob joined GTE's government communications systems designing ads for technical journals such as the Army's Signal and Navy's Sea Power magazines.  Throughout his ten years illustrating for GTE's trade shows, his full-color illustrations traveled around the world.
Bob graduated from Vesper George School of Art and, later in life, studied painting with Emile Gruppe.  Gruppe, a very close friend for over 30 years until Gruppe's death in 1978, introduced Bob to painting.  Bob loved to paint "plein air" oils of Gloucester's waterfront and became a well-known member of the Cape Ann arts community and he had a close relationship with the Rockport Art Association.
A longtime member of the Redeemer community, Bob not only created the woodcut of the church that appears on your name badge, he also created the illustration that appears on our coffee mugs, at the request of Betsy Whitman.  Bob also donated an original oil painting to the church.
Elizabeth Gable recently reminisced about living on the same road as Bob and his wife "Nan" in Rockport and meeting him once as she was shepherding a snapping turtle across the road.  She recalls sharing a pleasant conversation about the artists who were around Rockport at the time of her childhood.
Bob died at age 84 in Rockport, Massachusetts in 2008 and is survived by his wife, Nancy "Nan" Blue who still lives at their home on Eden Road where she enjoys gardening and is active in the gardening club in Rockport.
This feature appears in the April 2014 edition of Redeeming Features along with many other interesting articles.  See the complete issue here.