Tuesday construction update
 This is now the view from my office door. The acolyte in my house correctly recognized this as the place where the acolytes vest on Sundays. Right now, it is as far as you can go towards the sanctuary from the church office area.
And this is what Lisa's office looked like by the end of the day on Monday: 
When the going gets tough (and the jackhammers get a little loud), the tough get going… across the street to Cary Library. This is my "office away from the office" during demo week: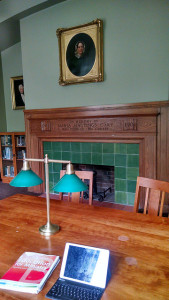 Nice and quiet here! We are lucky to have such a great library in our community.
We are also lucky to have Christopher Huggins overseeing our construction! Christopher took some photos of the downstairs "demo zone" that no one else can get into right now. I'll try to post those tomorrow or later today. You will not recognize our former coat rack area!