The Mitten tree is on its way to the Grow Clinic
We are getting ready for Christmas in many ways at Redeemer. This afternoon, Redeemer missioners were sorting hats and mittens and packing up the mitten tree to take to the Grow Clinic.
The Grow Clinic holiday party is this afternoon, with food, toys, and of course hats and mittens, given by Redeemer members to families in need in the Boston area.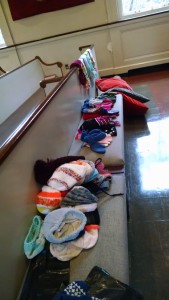 Meanwhile, clergy were getting the church ready for tonight's Service of Healing and Remembrance. At the service, everyone is invited to light one of these candles in remembrance of a loved one who has died.