A Special Annual Meeting Energizes Redeemer
On a snowy Sunday, January 24, Redeemer held a special Annual Meeting focusing on how our parish can address God's call to grow and establishing a vision for the church through 2020.    Rev. Kate and Sr. Warden Ian Fox outlined the financial and demographic challenges facing the parish in 2016.  Divided into small groups, the attendees worked enthusiastically to address the challenges and to create a vision of a larger, vibrant, open, affirming,  multiethnic, cross generational, mission-oriented church in 2020.
Rev Kate's /Ian Fox 2015 Review
Rev. Kate listed the many strengths of Redeemer, including wonderful, compassionate leaders, generous givers, people who take mission seriously, a membership that cherishes children and a wonderful building that can be used to extend our reach in the community.   Senior warden Ian Fox described the many accomplishments of the church in 2015, including completing the Great Hall project, which gives us room for the spirit, room for all and room to grow.
Both Rev. Kate and Ian described the challenges facing the parish.  As Lexington changes, membership is decreasing leading to declining pledge income at the same time that costs are rising.  A small deficit was approved in 2015, and that deficit has increased to $33,100 in 2016. The Vestry has projected membership, revenue and costs through 2020 and has found that the deficit will increase to over $80K in 2020 if the trends continue.  The Vestry and Rev. Kate agree that the trend is not sustainable.
Rev. Kate reminded us that God talks to us in daily life, and that God is talking to us through these membership and financial challenges.  God is challenging Redeemer's membership to grow in numbers and in personal engagement to overcome the negative trends and re-energize our community.   In order to answer this call to grow, we must change.
A Bequest
A great blessing from God is that Don Kendall, a former member of Redeemer who died 2 years ago, left a large bequest to the parish.   The Vestry is proposing using some of the bequest to fund projects and experiments to increase our engagement with the community, increase our connection to our neighbors, and increase our service to each other.   These strategies will ultimately lead to increased membership and a more stable financial situation by 2020.
Small Group Discussion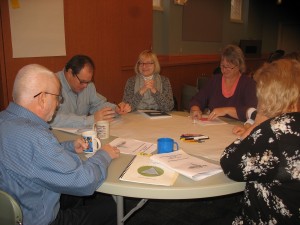 The enthusiastic and now well-fed audience met in small groups to address four questions to help identify changes that could ultimately lead to increased engagement in church life, increased connection with our neighbors and increased service to each other.
How can we increase our reach into the community to draw people to our church?
What is essential about Redeemer?
What do we need to change or let go of?
What would Redeemer look like in 3 years if we are successful?
What is essential about Redeemer?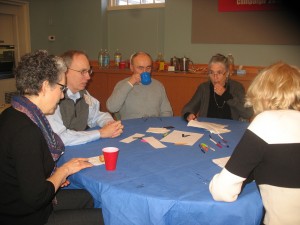 Some groups indicated that only our Christian Episcopal identify is truly essential and tried to identify elements of our liturgy that may be essential.
Others identified our intergenerational community, eating, music, fellowship, our focus on children, our commitment to mission/outreach and our traditional liturgy.
How to increase our reach into the community: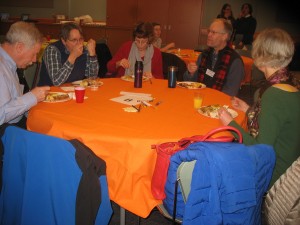 The teams identified many ideas such as:
Addressing the needs of busy families by adding weeknight or weekend evening worship and formation.
Bringing in relevant speakers and programs that meet the needs of the community.
Leveraging our location by meeting the needs of bikers on the bikepath.
Meeting the needs of ethnic communities by adding services in languages other than English.
Meeting the needs of teens by providing mission activities specifically for them and providing a drop in time during the week for tutoring, studying, fellowship or other activities.
Using preferred communication methods such as Facebook and Twitter to reach the community.
Making it easier for visitors to follow our service by projecting the service order on screens.
What would we need to change or let go of?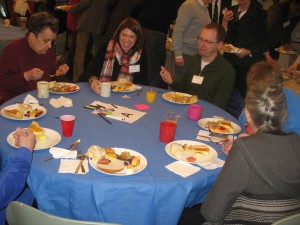 To increase engagement, we might need to let go of:
Fear of asking people to visit Redeemer or join our programs
Some traditions, such as the Creche service or our organ
Fear of failure
Assumptions about our worship space (would we consider no pews or having a flexible configuration?)
Assumptions about what it means to be a member.
In 3 Years What would Redeemer Look Like If We Are Successful: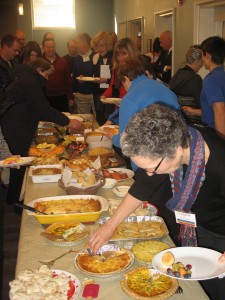 The teams constructed a vision that included a larger multigenerational and racially diverse community. The church would be full on Sundays and busy, noisy and vibrant all the time.  Teens would be actively involved.  There would be a variety of activities to choose from and a focus on mission outreach.  The community would be open and affirming and would draw back parishioners that may have left Redeemer over the last few years.
Next Steps
The Vestry and Rev. Kate and Rev. Andrew will compile the output from the small groups.  In February  and March the Vestry will sponsor Fireside chats for small groups to continue the conversation at church, in people's homes and on-line.  The Vestry will then collect all the ideas and will present them at an All-Parish meeting after Easter.  At the meeting we will decide together on specific next steps and goals.
How you Can Get Involved:
Participate actively in the Fireside Chats. Your ideas are important!
Like the Redeemer Facebook page and share it with your friends
Attend the All Parish Meeting after Easter.