"Learning To Serve": A Conversation with Calie Koso
A Conversation with Calie Koso, El Hogar Mission Team Leader: "Learning to Serve"
By Mia Ong, Photos provided by Calie Koso
Calie Koso is a Redeemer parishioner who serves as the Leader of the Redeemer's El Hogar volunteer mission team. Founded in 1979 by five members of the Episcopal Church, El Hogar de Amor y Esperanza – translated as "the home of love and hope" – is comprised of three residential schools (a grade school, an agricultural school, and a technical school) and a girls' residence, in or around Honduras' capital city of Tegucigalpa. Redeemer typically volunteers at the agricultural school, which serves sixty middle school boys, ages 14 to 21.
When she took her first trip with daughter Lindsay in 2010, Calie was anxious that she might "not have anything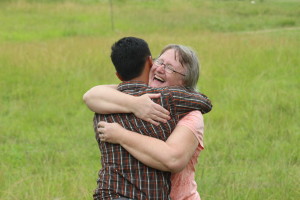 to offer." To her surprise, the experience was so mutually rewarding that she has returned two or three times each year since, as the group's translator in 2011 and as the mission team leader since 2012. Calie is married to Peter Koso. They have three daughters, Lindsay, Eliza, and Sofia. (Interview edited and condensed for length.)
How was that first trip to El Hogar?
Fantastic. Lindsay said it very well when she did her talk to Redeemer afterwards: she walked on the campus and she felt like she was home. The same was true for me as well. The kids were so incredibly welcoming, as well as all of the staff down there.
I was really able to interact with the kids, and my Spanish proved to be something that was of value to the group because it meant that I was able to be a translator where it was needed. I hadn't done Spanish in about 30 years. It came back more readily than I thought it would, so I was able to do all my time with the kids in Spanish and use that as something that pitched in for the group.
What are some examples of how you interact with the kids?
I had taken down a Hangman game. We played a lot of Hangman in the evenings. The kids almost hung me on an English word – I had forgotten to ask if we were playing in Spanish or English – and they were so proud! Little things like playing Hangman or cards are a great way to just be in community.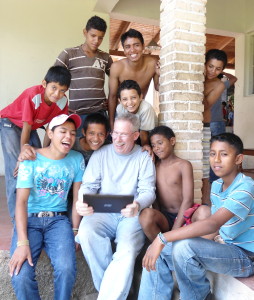 One thing that I love doing down there is taking pictures. I do a collage for each kid of some of their pictures from the year, and then give them out at graduation. It is great fun to watch them get them and pass them around to see who got what pictures… I think it's important to say, 'You are seen, and this is how I see you.'
Why do you serve?
Because there is an incredible light and joy that they bring to my life. I do it because it makes my heart sing, really. Spending time with them is really an incredible gift. It is a humility and a generosity that is so deeply ingrained in the Honduran people. When you say you walk humbly, I think that is true of the Honduran people, and they remind me of how I should be looking at the world and at life. The incredible joy and gratitude that the boys have in being at the school is phenomenally humbling and a reminder that there are so many other places in the world that don't have the level of privilege that we have that are purely that – yes, Peter and I work hard to have what we have – but so much is purely a result of where we were born and the families we were born into… I do it because I learn immensely from them and it feeds my soul.
You must have developed relationships with the kids over time.
I've continued to work with kids who were there. Once they graduate, I keep in touch with them. I'm working with some of them on, how do you get into a high school? How do you apply to college? There's a wonderful one who graduated in '13 who didn't take the exams for [entrance to] the high school. He told me his parents had already been without him working for the family for three years, which was a hardship, and it was his brother's turn to attend school. 'If I go to high school,' he told me, 'he doesn't go to school and my family doesn't eat.' And that level of trust that he put in me to be able to talk like that was phenomenal. But then, we talked about, what does it mean for your educational costs?… Now, he just started this week in college. He's the first in his family to do that. And he said that, having seen how important education is, 'I'm going to see if I can teach my mom how to read because I think that would make a real difference to her.' So he has spent the last year at his school working with teachers to teach him how to teach his mom to read.
I'm deeply invested in the kids I know from the farm. I think I have grown immensely as a person. And learning to sit back and simply listen to what a person has to say without trying to fix it has been a good, ongoing lesson for me. And then listening to what people need and want. Quite often it's wanting to know that they are heard and loved.
How does being involved in El Hogar connect with other parts of your life?
I think it's connected me to Redeemer more. I didn't anticipate that it would pull me into the church more, and it
did… And it is so much fun to go down with each group. Every group is different, and you never know what the talents are that are going to be pulled up in each one. Redeemer did a mural a long time ago on the side of the volunteer house that says, 'One God, many gifts,' talking about the different talents that people have. And even if you've been traveling with the same person, you may find out something new about them on each trip. And watching that unfurl is just so much fun, especially watching Redeemer kids take on new things and realize new things about themselves. It really has a way of bringing out the best in them, and that's just so cool to witness. And I've now had the gift of watching it with Sofia and Lindsay.
What do folks need to know about serving on a mission trip in El Hogar?
I think that the most important things is: We go to do what is asked of us, which I always pray will not be cleaning out the pig pens… but luckily, they usually ask us to paint. We're not going down to be the experts and tell people how it's done. We're going down to pitch in, in whatever way is needed. Ultimately, we go to serve. Sometimes serving is doing lots of work. Sometimes serving is chilling out because no one has told us what to do yet, or the supplies are not available, or the keys need to be found. Waiting can be very hard. There is a learning to accept the flow that is really delicious, and it comes harder for some than for others. But when you do, it's really lovely. So go down with open hearts and open hands and open eyes and ears, too. And remember to open yourself to the group and to the people around you. Being willing to take it all in. You don't have to speak Spanish.
The next trip to Honduras will be to the school for little kids (grades 1 – 6) in Tegucigalpa.  The trip will run from August 6 -13. While we have a number of folks joining the trip there is still room for more!   If you are interested in attending please contact Linda Kukolich or Erica Brotschi.