Lessons from the "Turn and Live" Lenten Series
The Lenten Formation Series Turn and Live is helping the Redeemer community move toward a life-giving response to youth unemployment, poverty and hunger.  The first session featured Ms. Adiel Pollydore, an Organizer with the Youth Jobs Coalition (YJC), which organizes campaigns, and develops youth leadership, to create a sustainable system of employment in Boston and Massachusetts. Adiel graduated from Tufts in May and is now a Micah Fellow with the Live Together Program with the Episcopal Diocese of Massachusetts.  She shared her story with the attendees, including her role at the YJC, and her experience as a Micah Fellow.
Adiel is currently working on a variety of projects with the Youth Jobs Coalition in Dorchester, including executing the annual Youth Jobs Rally, helping to develop a curriculum on youth unemployment injustice for Boston schools and developing leadership skills among young people participating in programs at the YJC.  One project is the "I Have A Future" campaign which advocates for academic and employment resources that will allow youth to pursue college and careers.  Hope can be found in these young people who are empowered to fight for their futures.
Adiel discussed her own story of growing up in a middle class suburb of Albany and attending Tufts. She described how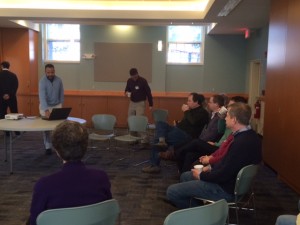 her work with the YJC opened her eyes to communities that do not have access to the same educational and job opportunities.  The youth at the YJC have graciously accepted her into their movement, sharing their challenges, hopes and dreams.  Her involvement has truly been transformational.
The parishioners who attended the session discussed how to respond to youth unemployment in an authentic way.  Adiel suggested entering into relationships with groups such as the Youth Jobs Coalition. She extended an invitation for members of COOR to visit the YJC's office in Boston and meet the staff members and the youth leaders.  She explained that the organization frequently looks for help on their campaigns, so there are many ways to get involved.
The session on racism was led by Ashton Murray, a Micah Fellow with the Life Together program.  Ashton has a Masters degree from the Wake Forest Divinity School. He works with the Episcopal City Mission (ECM) which seeks to mobilize Episcopal parishes, individuals and resources in partnership with community organizations to create structural change.  ECM supports community organizers, mission-based investments in affordable housing and economic development, and public policy advocacy.  Ashton's session challenged us to consider how racism may be integrated into public policy, corporate life, and how we interact with each other on a personal level.  The attendees discussed how racism may be exploited and sustained by groups that feel marginalized in terms of educational, income or employment opportunities.   Hope can be found in catching ourselves making racist assumptions and turning to God to confess the sin of racism while asking for help in overcoming these beliefs.   Hope can also be found in working to change the system that perpetuates racism by supporting community organizations that are seeking to create structural change and influencing public policy.
The Micah Project is part of Living Together, a leadership development program of the Episcopal Church that matches emerging leaders with mission-based non-profits, and trains them through spiritual practice, leadership models and community organizing tools. The participants live together in intentional communities from June to August while working at non-profits, schools or parishes.
The Turn and Live sessions are revealing how hope can be found in youth and in young adults such as Adiel and Ashton who are making a commitment to  address complex issues such as youth unemployment and racism.  The sessions are also affirming that there are many ways we can Turn to support change through organizations such as Episcopal City Mission, the Youth Jobs Coalition and other mission programs supported by Redeemer.  Through partnership with these organizations we can fulfill Micah's challenge: "What does the Lord require of you but to do justice, love mercy and walk humbly with your God."