The Fireside Chats we  had during Lent have been outstanding.  The purpose was to dig deeper into the themes that arose at the Annual Meeting, where we learned that something must change for our community to be sustainable.  These chats have allowed all of our community to have input into how we can live into God's call to change and grow.
Lots of discussion has been focused around diversity, outreach, supporting youth and families, using our space to grow, creative worship, and music.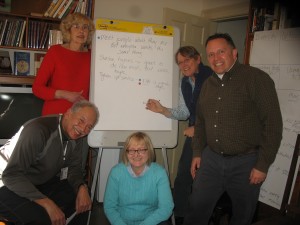 Save the date now for the All Parish dinner on Friday, May 6.  We will share the feedback as well as decide on next steps. This will be a very important meeting to decide the future direction of our parish. Children's activities will be included, so bring the whole family. We hope everyone will be there. Much more info to come after Easter, but save the date now!