Join Us At Camp Redeemer for Summer Fun on Sundays!
Join us for fellowship and fun for all ages at Camp Redeemer.  After worship each Sunday through the summer Redeemer will be hosting crafts and games for the kids, and snacks and fellowship for the whole family.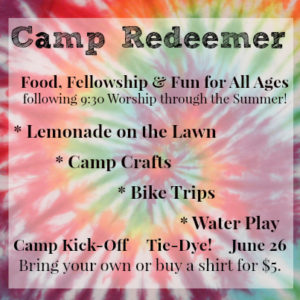 The fun starts after the 9:30 AM worship each Sunday (starting about 10:45 am).  The June 26th Camp Redeemer will feature Tie Dye!  Bring a shirt (or you can buy one at the event).
Everyone is welcome!! We are looking forward to seeing you there!!
Where: Church of Our Redeemer: 6 Meriam Street, Lexington
When: Every Sunday through the Summer after the 9:30 Worship (about 10:45 AM)
Who: Everyone is welcome
What you can expect:  Food, Crafts, Activities and fellowship for the whole family
Parking: In the parking lot adjacent to the church