Cookies and Carols a Treat For Everyone
by Mia Ong
The Church of Our Redeemer's 2016 Cookies & Carols party and dinner took place on Saturday, December 10th. With nearly 80 adults and children in attendance, including
many from the wider Lexington community, the atmosphere was lively and festive. Rev. Kate Ekrem observed, "I see a room full of people and the kids having such a good time! I think Saint Nicholas' appearance is a highlight of the evening." For the first time, Saint Nicholas joined the celebration to read books about this special saint and to take pictures with children.
Another highlight of the event was the cookie table, where attendees decorated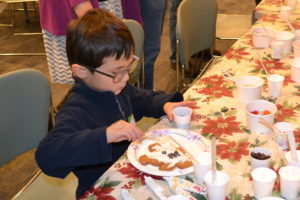 gingerbread cookies that were donated by Wilson Farm. Helene Sullas-Huggins, who organized the table, said, "The kids were so engaged! They were terrific. They helped each other. And I won't name names, but there were a lot of adults who decided to indulge their inner child."
The evening also included a crafts table, led
by Lee Nöel Chase, which was especially popular with older kids and teenagers. Organizers Beth Murnaghan and Jeanne Jacoby, along with several other Redeemer members, provided warm and hearty dinners of chili and grilled cheese. The evening concluded with joyful carol singing led by members of Redeemer's choir.