Look At What The Property Committee Has Accomplished
The Property Committee and a group of fabulous volunteers have transformed Redeemer buildings over the past 6 months.
Over the last weekend of July and the first weekend of August, seventeen volunteers
joined forces to power wash the exterior of the house and deck, and then stain the siding, roof eves, and window casings along with putting three coats of stain on the deck.
Many thanks to Karen Schragle, Eirik Gude, Lance Conrad, Jim Neumann, Randy Bowlby, Bill Vogele, Kelly Elpers, Steve Burns, Dinesh Dulipsingh, John Bernhard, Arjun Dulipsingh, Lucy Ekrem, Charlie Coons, Winthrop Brown, Bob King and Christopher Huggins. Oh! And our own Kate Ekrem put in a good days work on the window casings.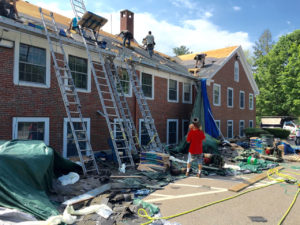 This volunteer effort ultimately saved us $12,000.
Other accomplishments include:
Wireless network was completed (Capital Fund)
 AV system was installed this month (ROV Fund and Kendall Fund)
The Church  attic was insulated in August (MassSave grant)
Interior storm "energy panels" were installed(MassSave grant)
And the Parish House got a new roof.
We are so grateful for the tremendous work of the Property Committee and all the volunteers who made these projects possible.  Thank you!