Rite 13 Hosts In-Gathering of Kids' Clothing on Sun. March 5
The Rite-13 kids and teachers have organized an in-gathering of new and gently used clean children's clothes on March 5 for Cradles to Crayons.  Donations will be collected and blessed at our service on Sunday, March 5.
Cradles to Crayons, located on Brighton, provides children from birth to age 12 living in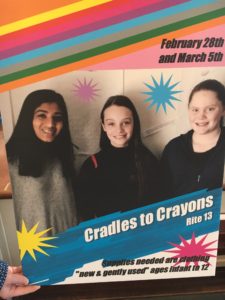 low income and homeless situations, with the essential items they need to thrive – at home, at school and at play. These basics include clothing, school supplies, toys and much more.  They supply the items free of charge by engaging and connecting communities that have with those in need.  Children's items are collected through grass roots community drives,  Donations are then packaged by volunteers and distributed to children in need across the state through a collaborative network of social services agencies and school partners.
The Rite-13 students are organizing the clothing drive as they prepare for a volunteer day for themselves, their teachers and parents on Saturday, April 1 to sort and package donations for needy families at the Cradles to Crayons warehouse in Brighton.  The Atrium III (grades 4 – 6) students, parents and teachers will join them.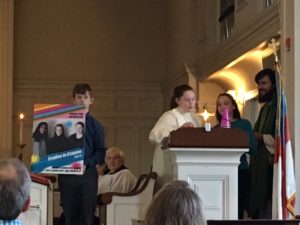 Crayons to Cradles has served more than 942,000 children and partners with over 304 agencies to identify kids in need.  Cradles to Crayons is one of the few charitable organizations that offer children meaningful opportunities to volunteer by organizing a clothing collection, hosting a fundraiser or working in their warehouses.  Providing a unique, hands on opportunities to help other people is one of the most powerful aspects of the Cradles to Crayons experience. When you donate to Cradles to Crayons you can be sure that your donation will go to deserving local child for whom the donation was specifically requested.