Esperanza Science Fair on Tuesday, March 21st
Esperanza Academy's annual Science Fair will be held on Tuesday, March 21st from 3-5 pm. We invite you to be a guest judge at this year's event or to attend the Science Fair to view the students' projects and talk to them about their work. The girls are very excited about the upcoming program, and we hope you will be able to participate.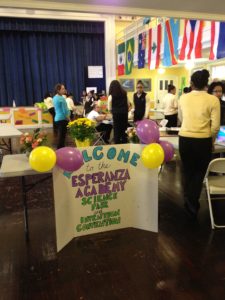 Esperanza Academy is a tuition-free, independent middle school in the Episcopal tradition welcoming girls of diverse faiths, races, and cultures from Lawrence, Massachusetts. The school serves 60 students in grades 5 – 8. Students attend school for 9 1⁄2-hour per day and 11 months per year, in classrooms averaging 15 students, using a co-teaching model in most subjects. This holistic educational approach has accrued a remarkable track record: Esperanza graduates attend 23 different secondary schools—more than two thirds of each graduating class has earned full scholarships to independent and boarding schools— and boast a 100 percent high-school graduation rate. Eighty percent of eligible Esperanza graduates are also enrolled in college. Esperanza Academy is 100 percent privately funded.
All  judges arrive by 2 pm to receive instructions and evaluation criteria from the Science teacher. Judges will then be assigned to a team and will evaluate one grade level.
You will be allowed to preview the projects from 2:15 to 2:45; at 2:45 all the girls will arrive and be available with their projects for your questions and judging. After your team has completed your evaluations, you will have time to enjoy food and conversation with faculty, parents, and the students.